CVOs required for U12 to U18 & senior teams
Due to Capital Football Competition Regulations, U12 teams and above need to provide a Club Vested Official (CVO) at each match, home and away.
What is a Club Vested Official?
A CVO represents the club and is responsible for the actions of supporters from their club.
Essentially, they get to wear a cool vest, help ensure spectators behave themselves and foster respect.
Who can be a CVO?
A parent or another responsible spectator/supporter
Someone at least 18 years old
You can't be a coach, manager, reserve player or assistant referee (linesperson) at the same time
Different people throughout the season
What if no CVO is provided by your team for a match?
The club is fined $50 for each offence. Capital Football is actively checking match teamsheets to ensure that there is a CVO for each team. So, please write the name of the CVO on the teamsheet, under "Club Ground Officials".
If you want to help your team with CVO requirements, let your team manager or coach know. Email us via admin@belnorth.org if you need help, advice or support on being a CVO.
MPIO
What is an MPIO?
MPIO stands for Member Protection Information Officer, and they provide information to members about their rights, responsibilities and options when making a complaint in sport. MPIOs are impartial and don't mediate or investigate complaints.
Who are our MPIOs?
Belnorth FC has 2 MPIOs, Georgina and Wayne. We encourage members to contact them if they have concerns or complaints. Both their details are below.
Georgina Williams (MPIO): mpio1@belnorth.org
Wayne Bruce (MPIO): mpio2@belnorth.org
You can reach both our MPIOs via mpio@belnorth.org.
Club Jackets now available
Rebel Belconnen now has Belnorth hooded jackets in stock. They are $80. Grab one now before they sell out and keep warm at training and games.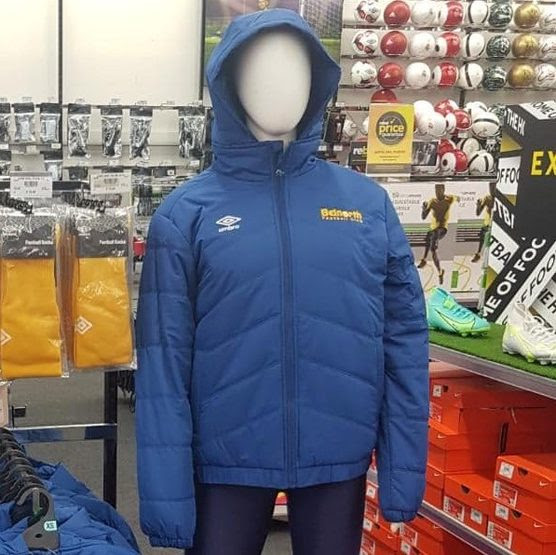 Goal repair
Thank you, Thomas, for assisting us with repairing some of our portable goals recently.
It is a big job, so if anyone else can assist us as part of a working bee, please get in touch via admin@belnorth.org.
Want to help your club?
We still have some vacant roles at the club:
Contact us if you are interested in strengthening the club through volunteering.